When I look back on it, I realize that some really great opportunities have come out of a cold email I've sent in the past. There was a recent paid writing gig, a string of coffee dates with women whose careers I admired and the chance to interview Jamie Derringer, founder of the popular blog Design Milk.
In my work soliciting silent auction donation items for the Peninsula Humane Society's annual gala, I also utilize cold emails frequently.
I recently spoke to a few conference organizers who managed to book the founders of Classpass, Poshmark, Grammarly and Away for their event and they told me they accomplished it all through cold emails. So you see, in spite of the hangups you may have about reaching out to a perfect stranger, there's a lot to be gained from it.
The person who really encouraged me to be fearless (but not reckless) about sending out cold emails was Jaime Petkanics of The Prepary. Jaime is a career coach and former recruiter for Tory Burch and J.P. Morgan. She told me the worst someone will generally do is not respond. Important people don't have the time to write scathing responses like you may imagine, so put those fears out of your head now. After all, fear is a manipulative emotion that can trick you into living a boring life.
"You never know what you're going to get if you don't put it out in the universe," Jaclyn Johnson said of a cold email to Garance Doré resulted in a surprising response. Jaclyn is the organizer of Create + Cultivate, a conference for women that has lined up speakers like Jessica Alba, Rachel Zoe and Gloria Steinem.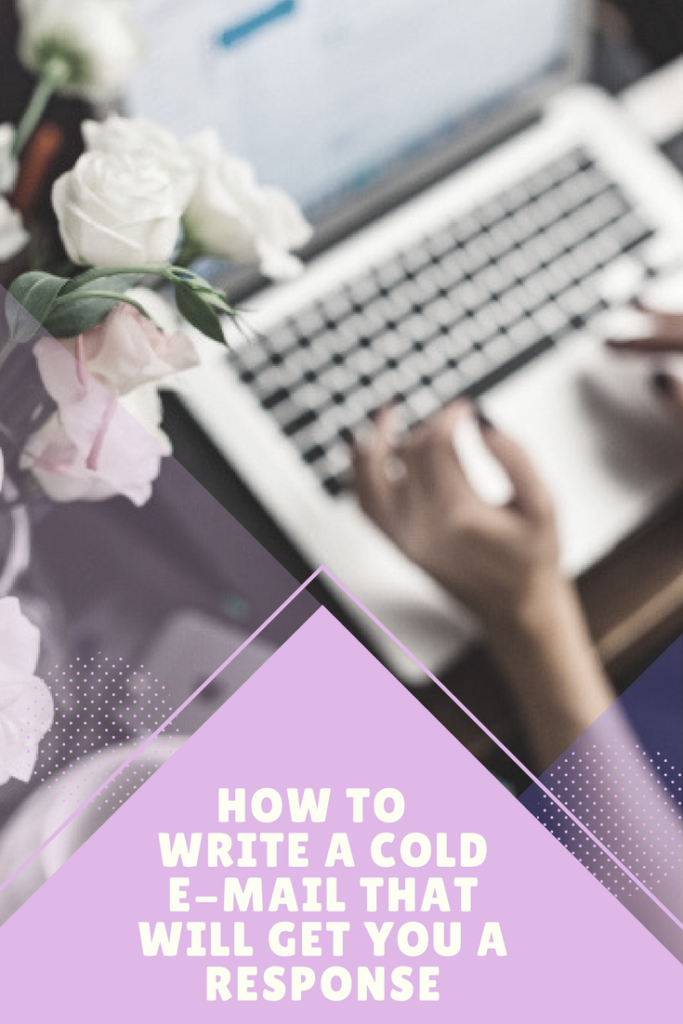 Here's how to write a cold email that will get you a response.
Use a hooking subject line
Professional email marketers are constantly testing subject lines, and you could take a note out of their book by putting a little extra thought into yours. It'll give your email just that much of a higher chance of being opened.
Keep it short
This one is pretty clear – despite how much you may want to wax poetic about how you admire someone's work, if they open your email and see 6 long paragraphs their eyes will likely glaze over. Throw in a dash of flattery, but save your story for later down the line.
A good rule of thumb is to keep it short enough that someone wouldn't have to scroll down if they were reading on a smartphone.
Here's a great quote on this from Aaron Friedman:
"Be direct, quick, and enthusiastic. Nobody wants their time wasted. Everyone wants as much info as possible. Nobody will respond to you if you don't excite them. If you can keep it under six sentences, that's good."
Make minimal requests at first
Start small. If you chat with someone on the phone for 5 minutes and that turns into 15, that's great. If that 15 turns into a lunch date, even better.
Be straightforward
If you leave your email open-ended and ambiguous, your recipient may not be sure quite what to make of it. Come out and say so if you're seeking 10 minutes on the phone with them, say so. If you want them to forward your resume to a hiring manager, let them know. Be clear about your wishes and the actions you'd like them to take. There's no need to dance around your true request.
Follow up without being annoying
Repeat after me: there is absolutely no shame in following up. But know how to take a hint if you're not getting anywhere after 1-2. Busy people always have overflowing inboxes. It's completely plausible that they might see and open your email, then make a note to respond and forget. This is how a follow-up can keep you from slipping through the cracks.
Do you have a cold email success story to share? I'd love to hear about it in the comments!