We're all guilty of blowing off our budgets from time to time. Your guilty pleasure might be $12 cosmopolitans, 2x daily Starbucks runs, froyo gossip sessions, brunches, manicures or the Nordstrom semi-annual sale. You don't need to feel remorseful when you splurge. There are so many options these days for earning extra pocket money that anyone can find a way to earn that they enjoy.
Habits are rarely broken overnight. I'm a strong believer in budgeting based on your personal priorities.
Monetize your hobbies
You could shift your budget to make it work for you, but earning pocket money has become more accessible than ever thanks to companies like Etsy, Poshmark, Wag, Upwork, Thumbtack and TaskRabbit. It's all too easy to downplay your hobbies and skills, but they can translate into some serious purse coinage.
If you're great at crafting or calligraphy, stop procrastinating on that Etsy shop you've been kind of sort of thinking about opening for years now. It's probably one of the best income streams you could open up because it has the potential to triple as a party conversation topic and line on your resume.
If you have an eye for photography, take stock photos and sell them. Seriously – here are some sites you can sell them to! Enlist your friends and pets as models, or just take some eye-catching laydown or food shots.
Participate in surveys and studies
Seriously, get paid to eat. If you live in the San Francisco Bay Area, Tragon Corporation runs taste tests. My personal favorite was dark chocolate, but I've also tested breakfast foods and yogurt.
Other options include reaching out to your local university. They could be running departmental studies that you may fit the profile for. I've been contacted for studies by companies I use including Google, Netflix and Coursera.
The opportunities are out there if you just poke around on the Internet a little! Try FindFocusGroups.com or search the keywords "paid study" and "market research" on Craigslist.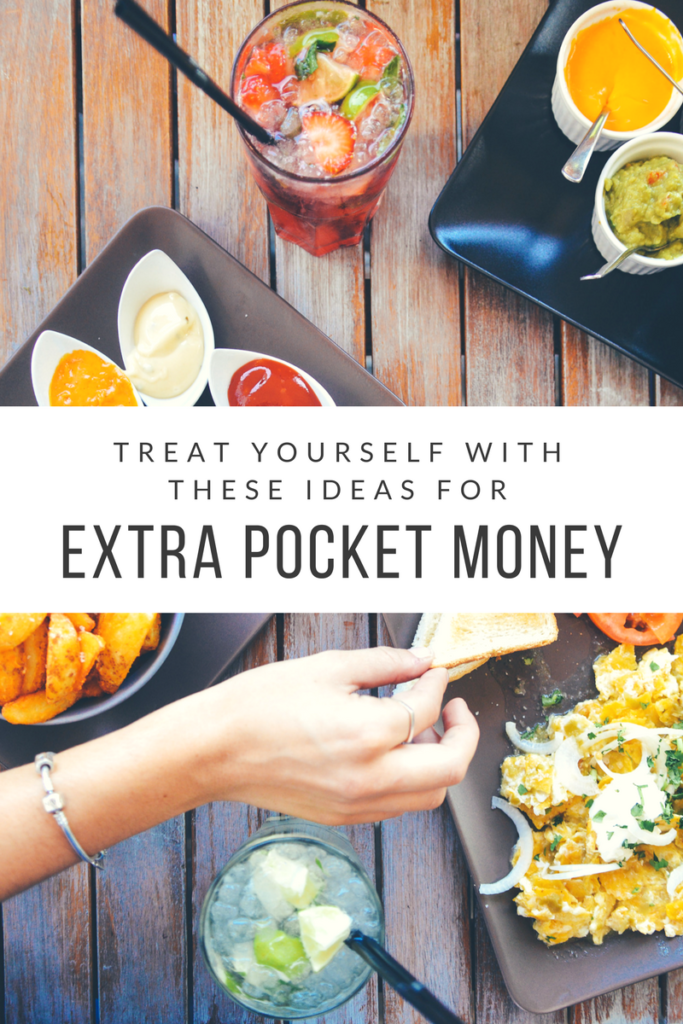 Sell what you don't need
Remember that part in the Gilmore Girls Netflix special where Emily goes on a mission to throw away all the things that don't bring her happiness? Well, I'm not suggesting you get that extreme about it with the KonMari method – but we all have a few things we could stand to get rid of. Why not sell some old clothes or books for cash if it doesn't bring you as much joy as your coffee fix will?
You could take your clothes to the nearest thrift shop or send them to ThredUp to see what they'll take. If you enjoy putting your most entrepreneurial foot forward, you might enjoy the fun, social vibes of apps like Poshmark. They literally make every shopping category a party where sellers and buyers can interact with each other, share products, ask questions and offer trades. Other alternatives include eBay, Craigslist, Facebook marketplace, Tradesy and Snob Swap.
Join the Gig Economy
Did you know that according to findings from an Adobe study, as many as 81% of traditional workers they surveyed said they would "be willing to do additional work outside of [their] primary job if it was available and enabled [them] to make more money"?
Welcome to the gig economy. This includes the driving people do for Uber and Lyft, the tasks they carry out for Thumbtack, the projects they fulfill on UpWork and Freelancer, the dogs they walk on Rover – you get the gist.
You can pick up a few shifts at your own convenience by signing on with these companies doing whatever it is that makes your skill set shine. If you're an animal lover, try pet sitting with DogVacay. More into humans? Sitter City and Urban Sitter have your back. Got a talent for graphic design? Help other people's businesses shine by designing logos. Or sell your designs on T-shirts through sites like Zazzle and CafePress. Like driving but don't like people? Be a parking valet for Luxe. Deliver food for Postmates if it's in your city. The possibilities are as endless as your love for coffee.
Rent out anything you can
Do you live in a neighborhood that gets super crowded on weekends? Rent out the extra parking space in your driveway! If you don't mind strangers crashing with you from time to time, rent out a room in your apartment on Airbnb. Or rent out your bicycle on Spinlister. Or your car on Getaround.
As you can see, there are more than just a handful of ways to make pocket money. Get creative, have fun, and enjoy that afternoon cappuccino – and maybe even a cake pop if you want to splurge.
Featured image credit: Tamara Bellis
What are your favorite spending splurges?