Festival slash flower crown season is officially over, ladies – but that doesn't mean the basic train has rolled into the station. If anything, it means the basic train has just begun. After all, aren't pumpkin spice lattes what started this whole phrase in the first place?
Here's what every basic girl's Bay Area fall checklist should include. Because even we want a piece of that pile of crispy fall leaves, apple cider donuts, and corn mazes.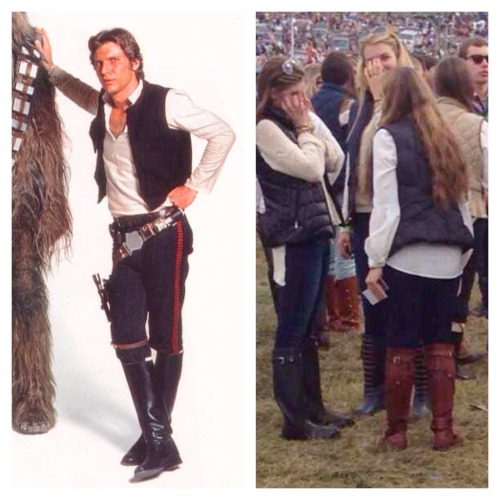 Apple Picking
Swanton Pacific Ranch is operated by Cal Poly and offers 16 types of apples, depending on how far into the season it is. It's located in Davenport, just north of Santa Cruz, which makes for the perfect pit stop before or afterward.
If you want to be a little extra and make a day trip out of it, Clearview Orchards in Watsonville is conveniently located near some prime seal watching. They also have apple turnovers and local honey, which is a huge plus.
Apple-A-Day Ratzlaff Ranch has a good number of perks, including fresh-pressed apple cider onsite and a perfect location next to a pumpkin patch. They're also open 5 days a week, so if you were secretly thinking of blowing off work, this is where you want to spend a day in fall heaven. They're located in Sebastopol, north of San Francisco.
Pumpkin Patches
The absolute king of pumpkin season as far as the Bay Area is concerned is the Half Moon Bay Pumpkin Festival, held every autumn during pumpkin season. This year it will take place October 14-15th from 9 AM-5 PM on Main Street.
Notably basic highlights include Jack-O-Tini pumpkin cocktails, pumpkin harvest ale from the Half Moon Bay Brewery, wine from local winery La Nebbia and pumpkin ice cream.
Another pumpkinesque must-see in Half Moon Bay is Arata Farms. It's a pumpkin patch that's also home to pony rides, a hay maze and a petting zoo. You may be too big for the former, but the latter two are great fun, even for grownups. The maze is known for its trickiness, with secret doors, dead ends, and ladders should you need a bird's eye view for assistance.
Lemos Farm is a spirited attraction located right by Highway 92. They operate year-round, but their train becomes a spooky ghost train in the autumn months. The pumpkin patch also makes for the perfect photo op.
Kayla's Corn Maze at Uesugi Farms in Morgan Hill is a two-acre maze specifically for grownups. It's great to get lost in after a few pumpkin ales.
Apple Cider
If you want a picture of yourself pressing your own cider for the gram, head up north to
the Sebastopol Community Apple Press at the Luther Burbank Gold Ridge Experiment Farm in Sebastopol. That was a mouthful, but the press is free to use.
For a whopping $5, you can get a tour of the apple orchards at Applegarden Farm and a hard cider tasting. Costs are waived if you buy cider, so presto – problem solved. The orchards are located in Tomales, about an hour from San Francisco.
The Santa Cruz Cider Co. doesn't currently have a tasting room of its own, but its ciders can be found on tap all over the Bay Area. If you happen to be near Santa Cruz, their ciders pair nicely with a walk on the beach or a post-surf chill session.
Leave it to Californians to think of putting habanero in their apple cider ("a fiesta in a can"). Sonoma Cider has done just that. If you take a trip to Healdsburg, you can sample on-tap favorites as well as some microbrews exclusive to the taproom. If you're really daring, try their organic apple brandy.
Brews
Break out last year's Halloween lederhosen for Oktoberfest By The Bay! Clear out some calendar space on the weekend of September 22-24th, where the fest will set up camp at Pier 48.
Some additional heavy-hitting beer celebrations are at the Mission's ever-popular Zeigeist. If you're down to take a drive to Fairfield, Anheuser-Busch hosts also hosts an Oktoberfest event – with free admission.
If pumpkin brews make you supremely happy, take a look at the local options from breweries like Drake's Brewing in San Leandro, 21st Amendment in SOMA, and Half Moon Bay Brewery.
Pumpkin spice lattes
Oh come on, if you can't figure out where to get one of these are you even basic?