What's cool in the land of social media can turn faster than an Indy race car. Every social media manager should carve out a few hours weekly to catch up on the latest social media news, trends and case studies so they can turn around and implement it into their strategy.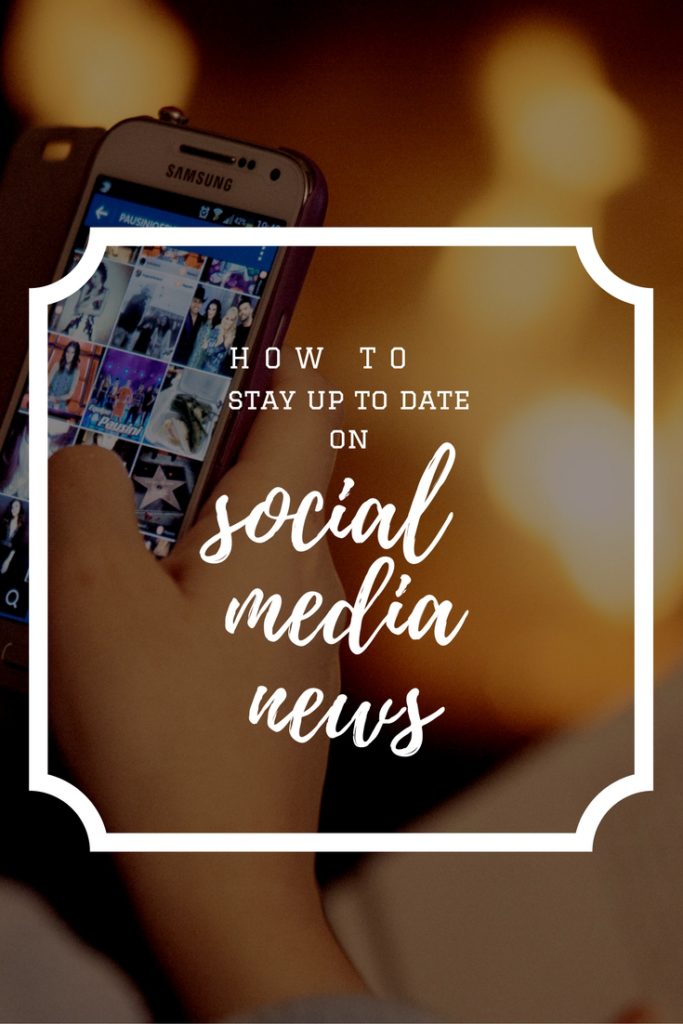 Here are a few ways that I stay in the know – I'd love to hear yours in the comments!
Social Media Blogs
Social Media Explorer
Well, social media can feel like a jungle. There's always a new hot channel to dig deeper into, a new influencer who you can't believe you hadn't discovered before. I love the names of their categories – "Tools & Tips," "News & Noise," "Cases & Causes," etc.
Whether you're looking for ideas or have a few minutes to take an in-depth look at how another brand in your industry knocked it out of the park with a previous campaign, you're set here.
Check this out: 5 Trends That Will Transform Social Media in 2017
Social Media Today
Stay up to date with what the major social networking companies are up to, and get access to a wealthy resource of social media information at Social Media Today.
Check this out: 4 Reasons Not Having a Social Media Strategy Can Hurt Your Business
Social Media Examiner
This is one of my original resources when I was starting out as a social media manager. It's great for discovering features that you didn't know existed in your favorite channels and brainstorming ideas that you can adopt to fit your strategy's needs. They also host Social Media Marketing World every year in San Diego.
Check this out: 9 Ways to Work Celebrations Into Your Social Media Marketing
Jeff Bullas
Jeff Bullas was also early on the draw, blogging about social media back when brands were just starting to realize they could get their message seen if they posted links on Facebook. It looks like most of the content on his blog is written by contributors these days, but the value is still there.
Check this out: 25 Words to Drive More Engagement With Your Social Campaigns
Peg Fitzpatrick
I was lucky to see Peg speak on a Gone Social panel in San Francisco recently (see the slides here), along with Guy Kawasaki! Her tips are friendly for folks who are just getting started in social media, but extend to a social veteran like myself.
Check this out: How Google+ and Pinterest Go Together Like Peanut Butter and Jelly (her most popular post!)
Digital Marketing Blogs
When I say "digital marketing," I'm referring to everything under the umbrella of the term besides social media. These things, including content and SEO, are very, very closely related and worth keeping tabs on.
The Moz Blog
Moz is pretty much the SEO Bible. Check in every month or so just to keep tabs on its landscape.
Check this out: Here's How to Use Your Daily Habits For Writing Better Content in Less Time
Search Engine Land
Search Engine Land is a great source of information regarding SEO and SEM (stands for Search Engine Marketing – aka paid search marketing). Because SEO and social are closely intertwined, Search Engine Land also provides a good dose of social media news.
Check this out: How your old content can help with SEO
Corporate Blogs About Social Media
Curalate
Curalate is a must-have if you work for a major retailer. Their blog is full of information about how brands are leveraging platforms and campaigns to push their products in an innovative way.
Check this out: Meet Mario Moreno, Social Strategy Builder for Forever 21
Sprout Social
Their Insights blog is a great framework of ideas for healthy community building and engagement.
Check this out: How to Get a More Engaged Audience With Your Social Media Content
Hubspot
Check this out: 5 Psychological Concepts That'll Strengthen Your Social Media Strategy
Canva
Their blog, known as Canva Design School, is a more visually-geared take on social media, but one that's unique and equally as important.
Check this out: What You Can Learn From the Top Brands on Instagram
Simply Measured
I have to include Simply Measured here because they're my favorite social media analytics tool. Naturally, I'm a fan of their blog as well.
Check this out: 7 Brands Winning Social Media During the Olympics
Iconosquare
Engagement with brands on Instagram is 10 times higher than Facebook, 54 times higher than Pinterest, and 84 times higher than Twitter.
This is an Instagram-centric blog, so the content here is definitely more tailored to that niche.
Check this out: How to Use Instagram Stories for Marketing Your Business
Bloggers
As you may have read, I think bloggers experts at engaging with their audience in an authentic, meaningful way. This makes their strategies great to study, emulate, and adapt to fit your needs. It's part of the reason some of these influencers are pulling in $3-12 million annually (from the top tier) from brand partnerships.
For example, when Instagram stories popped up, I noticed that Kiersten Rich of The Blonde Abroad said she would post more content about packing up and getting ready for her trips to Instagram stories, and keep the travel-centric snippets on Snapchat.
What I gathered from this is that she wasn't planning on going for any duplicate content – if you want to keep up with her, you'll check both channels! And Snapchat does have the cool geofilter thing going for it, so it makes sense.
I also noticed that Chloe of chloedigital has a very obvious pattern of alternating her rockin' beautiful flat lay shots with tips cut from her own template. I love her tips – it makes me feel like I'm getting an insider's seat at her desk, since she often features advice from the bloggers she works with.
My favorite brands
It never hurts to look at what the pros are doing. If I see Coca-Cola wearing army pants and flip flops, I'll go out and buy myself a pair. Seriously though, it never hurts to keep tabs on your favorite brands. It's like having a daily dose of inspiration in your social media feeds.
My personal favorites are GoPro, National Geographic, Virgin America and Revolve Clothing. Other notoriously creative brands include Dove, Oreo and ASOS.
Volunteering
Believe it or not, giving back can really result in getting ahead! Most of the teenage girls who came to pick out prom dresses at our 2016 Princess Project giveaway weren't on Facebook at all. They loved Instagram and Snapchat.
Further demographic digging supports the hell out of this evidence. It's super useful for me to know as a social media manager. While Facebook is great for marketing to moms, but you won't get many teen eyeballs there. It really comes down to collecting as much information as you can and weighing it against your targeted audience.
Do you have a favorite social media blog or tip?