Personally, I'm thrilled to be living in a time when the stiletto jungle is thriving with wild vigor. Thanks to Sophia Amoruso's must-read memoir, women are declaring themselves #Girlbosses and chasing down dreams.
They're founding companies, creating TV shows, running for office, dominating the box office, and paving their own paths to success.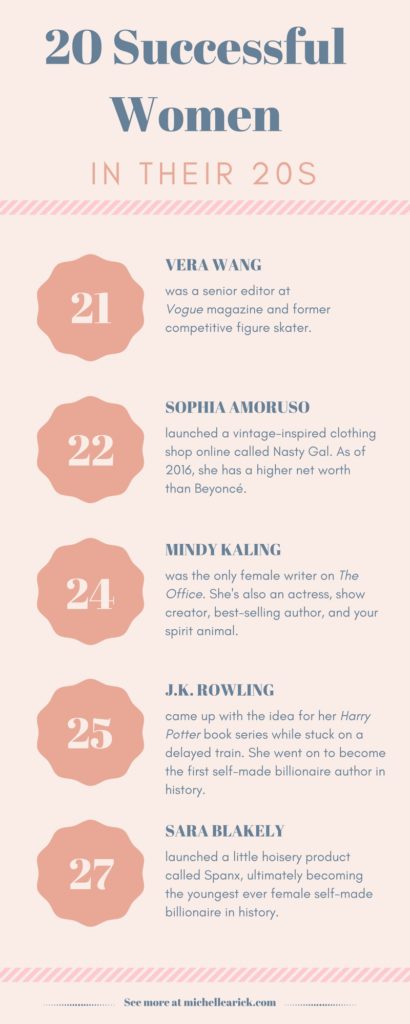 For a healthy dose of perspective, here's a glimpse at what 20 of modern society's most successful and iconic women were doing when they were in their 20s. Some of these icons were already absolutely killing it, some were experiencing rejection that would later serve as the bridge to breakthrough, and some were on an entirely different path from what they ended up doing – but they still got there.
1. Shania Twain
At age 22, Shania Twain was raising her three younger siblings by herself after her mother and stepfather died in car crash. She was able to move to Nashville, sign with a label and release her debut album after her siblings were old enough to live independently. She chose the Ojibwe name Shania as her stage name, which means "I'm on my way."
2. Diane von Furstenberg
At age 29, Diane von Furstenberg was on a plane when the businessman next to her asked, "What's a pretty girl like you doing reading the Wall Street Journal?" Her response was to show him her picture on the front page. At age 29, her wrap dress had already been cemented as part of the 70's iconic style, making her an international success.
3. Lady Gaga
At age 20, Lady Gaga was signed to Def Jam records, only to be dropped three months later. She later described it as one of the worst days of her life but said, "If you give up after something like that, you were never destined to be an entertainer." Interscope Records signed her the following year.
4. Ruth Bader Ginsburg
At age 27, Ruth Bader Ginsburg was turned down by Supreme Court Justice Felix Frankfurter for a clerkship because of her gender. Because there was already a female associate in place, she did not receive a job offer after completing a summer associateship at the firm, either. "Probably I would have climbed up the ladder and today I would be a retired partner. So often in life, things that you regard as an impediment turn out to be great good fortune," she said in an episode of Makers.
5. Tina Fey
Age age 23, Tina Fey's day job was behind the desk at the Evanston YMCA. Her mornings started at 5 AM, giving her afternoons to take classes at Chicago's improv club Second City. By the end of her 20s, she was writing for Saturday Night Live, which led to her starring in the program.
6. Brit Morin
At age 25, Brit Morin left Google to start her own company. Today, Brit + Co is a popular creative hub for women. Brit + Co is a leading destination for the DIY generation, currently reaching over 10 million creatively-minded people each month. The company offers online classes and do-it-yourself kits to help bring out your inner creative passion.
7. Hillary Clinton
At age 27, Hillary Clinton failed the bar exam in Washington, D.C. She moved to Arkansas and still determined, continued her legal career.
Ready to see the rest of the list? Peep it on The Babe Report.